Dept. of Life and Environment Engineering
Creating new technology via utilization of the complex structures of organisms.
Features of the educational curriculum and methods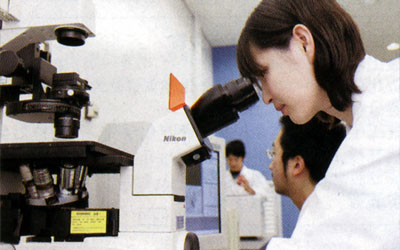 The Department's philosophy
While thoroughly studying the fundamentals of biology and science, you are able to study the interaction between ecosystems and the environment. Furthermore, you are able to master advanced knowlege and techniques relating to biotechnology, which deals with items including DNA, microorganisms, and animal and plant cells, and environmental management, which includes environment restoration techniques related to soil and water quality, environmental risk, and environmental planning and policy.
Educational content
In the Department of Life and Environmental Engineering, you can master biotechnology techniques that create energy and new substances and materials by utilizing the sophisticated structures of organisms and ecosystems. Furthermore, we foster professionals who can effectively utilize these techniques in the environment, ecosystems, and society.
Life Science & Biomaterials
Study the phenomena of life from a molecular level to the individual level using Chemistry as a base. Also, study biotechnology in order to effectively utilize and adapt materials and the structures of organisms.
Biological and Ecological Engineering
Study the numerical methods to understand ecosystems, as well as scientific technology that is considerate of ecosystems and environmental management methods to grow societies.
Environmental Management
To master adaptable skills study mathematical simulation techniques and risk assessment techniques for understanding complex environmental problems and finding solutions for these, as well as studying policy theory and policy assessment methodology for making a more environmentally friendly society, and scientific technology management methods.
Pathways students can take after graduation
Expected future fields
New products and materials development at chemical companies, biotechnology enterprises, textile companies, automobile manufacturers and food manufacturers.
Technology development and recycled products market cultivation at recycling enterprises.
Eco-product development and environmental management in the manufacturing and distribution sectors.
Corporate Social Responsibility (CSR) promotion
Undertake bio cultivation in agricultural corporations and enterprises. Undertake urban greening and environmental regeneration in the civil engineering and construction sectors.
Undertake environmental assessment surveys, environmental planning and environmental management support tasks in environmental research agencies.
Public servants: At the national and local level in areas including environmental management, industry policy and urban planning.