Dept. of Chemical and Environmental Engineering
With Chemistry as the base,we strive for clean energy, environmental preservation and resource recycling utilization.
Features of educational curriculum and methods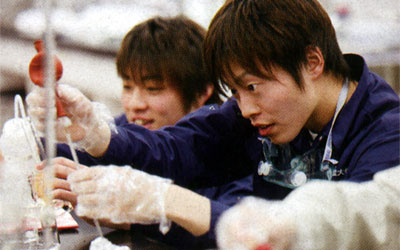 Development of scientific technology and systems that harmonize with the environment.
In order to solve the global scale environmental problems that we are facing, the Department of Chemical and Environmental Engineering aims for the development of scientific techniques and energy that can exist in harmony with nature, as well as the development of resources recycling systems. The Department fosters 21st century personnel that can be active globally contributing to the development of new materials that are environmentally friendly, the effective utilization of finite resources, and development of techniques, including for materials recycling and the assesment and restoration of environmental pollution from hazardous waste.
Listen to the Earth's voice and become experts at problem resolution and the development of technology that harmonizes with the environment.
Undertake the development of clean energy and renewable energy such as natural gas, bio-mass and solar batteries, as well as developing chemical processes for environmentally friendly material synthesis.
Protect our lifestyle space and the natural environment by making full use of the latest nanotechnology that prospers today and developing environment harmonizing materials the transform harmful substances into harmless ones and ultrahigh sensitivity detection methods for environmental pollutants.
Aim to realize a recycling society (sustainable society) in which people feel safe and relaxed, by making full use of cutting-edge analytical assessment, waste treatment, and environmental restoration techniques, against the challenges from now of real environmental problems such as resources recycling, and the foundations of life, of the water environment and water treatment, and the soil environment.
Pathways students can take after graduation
Expected future fields
In domestic and Asian enterprises, make an international contribution in roles responsible for environmental preservation, environmental management and environmental technology.
Undertake research and development of energy savings and clean energy at enterprises and public research institutes.
Undertake development of environmentally friendly new materials and technologies, as well as environment related products.
Play your part as a developer or technician of removal techniques and processes for various environmental pollutants.